Rocket Fund
Rocket Fund
10 December 2018 (by Mr Bradley (Alex))
This year we are involved in a new initiative called 'Rocket Fund'.Rocket Fund is a crowdfunding platform, designed to help schools fundraise for the latest technology.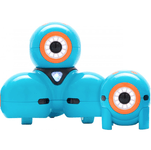 We are committed to trialling the latest technology and developing our students' digital skills. We wish to raise over £1000 to purchase robotics to help our children bring their lessons to life. Funding new technology in schools has always been a challenge. So we've create a project on Rocket Fund to see if we can raise money from our community.
Every little helps, but don't worry if you can't donate right now - we would be grateful if you could share this project with as many people as possible: on Twitter, Facebook, email or just over the fence!
We are also keen for local businesses to support us so if you have any contacts who may be interested in supporting this project, please get in touch