'North West Gifted and Talented Creative Writing Day'
'North West Gifted and Talented Creative Writing Day'
8 October 2018 (by Mr Bradley (Alex))
Pikes Lane were proud to host the 'North West Gifted and Talented Creative Writing Day' on Saturday 6th October.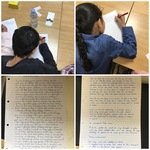 A selected number of students from years 4,5 and 6 were lucky enough to work with Alan Gibbons. Alan has published over 75 books in his career, and has won prestigious awards for his writing.

The children were tasked with creating a story about a time machine, they used their imagination and creativity to form their own time travel story. Each child then created a fact sheet about their time machine, and finished the day by creating a poem incorporating similes.

We had a wonderful day, thanks to Alan and all the children involved.