WOW Day!
WOW Day!
19 May 2016 (by pikeslane)
On Wednesday 18th May, Pikes Lane had an exciting reading and writing wow day!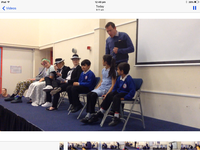 Based on the picture book 'Tuesday' by David Wiesner, the teachers carried out and led a wide range of educational activities including designing clay frogs, creating storyboards and even filming news reports! Everyone had a really fun day!