We're on the BBC!
We're on the BBC!
3 October 2018 (by Mr Bradley (Alex))
BBC's 'newsround' came to film a feature with our pupils.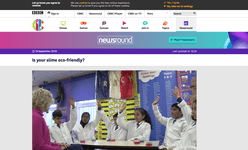 The film is all about the environmental impact of slime. It will be featured on the show on Wednesday 19th September and can be seen online by clicking the picture below.