It's Good To Talk Day!
It's Good To Talk Day!
9 February 2018 (by Mr Bradley (Alex))
On Friday 16th of February we will be hosting our second 'It's Good To Talk' day.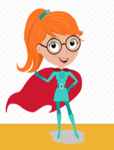 We will be using superheroes as a starting point to explore our learning and focusing on our oral skills. All pupils will be using the ABC strategy for discussion to: Agree, Build On or Challenge, a point of view and there's the option to come dressed up as your favourite superhero too!