NEW! Basic Skills Quality Mark!
NEW! Basic Skills Quality Mark!
9 February 2018 (by Mr Bradley (Alex))
On Thursday 8th of February we we visited by the Basic Skills Quality Mark assessor.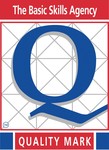 He was very impressed by all of the great work that our staff and pupils do to improve learning and we are pleased to say that we have retained the award. We will be publishing some of the great comments from the report once the final draft arrives. Well done to everyone! You can find out more about what this award means for the pupils by following the link below.